---
Steamed Fish with Spicy Ginger Sauce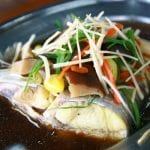 SAUCE:
1/4 cup fresh orange juice
1 tablespoon grated peeled fresh ginger
2 tbsp mirin (sweet rice wine)
2 tbsp Vital Garlic Ginger Sesame soy sauce
1 tablespoon dark sesame oil
1/2 to 1 teaspoon crushed red pepper
FISH:
4 hake fillets
1/2 cup chopped green onions
1 tablespoon grated peeled fresh ginger
1/4 teaspoon salt
1/4 teaspoon freshly ground black pepper
1 cup thinly sliced leek (about 1 large)
1/2 cup (1-inch) julienne-cut carrot
1/2 cup (1-inch) julienne-cut red bell pepper
4 cups water
4 cilantro sprigs (optional)
To prepare sauce, combine first 6 ingredients, stirring with a whisk.

To prepare fish, lightly score each fish fillet by making 3 (1/4-inch-deep) crosswise cuts with a sharp knife.

Combine onions and 1 tablespoon ginger, tossing well.

Rub about 2 tablespoons onion mixture evenly into slits of each fillet.

Sprinkle fillets with salt and black pepper.

Combine leek, carrot, and bell pepper; arrange half of leek mixture in a 10-inch pie plate.

Pour half of sauce over leek mixture; arrange fillets in a single layer over leek mixture.

Top fillets with remaining leek mixture; drizzle with remaining sauce.

Open a small metal vegetable steamer; place steamer upside down in a large, deep wok.

Add water; bring to a simmer. Wearing oven mitts, carefully place pie plate on top of inverted steamer.

Cover and cook 12 minutes or until fish flakes easily when tested with a fork.

Wearing oven mitts, carefully remove pie plate from wok.

Garnish with coriander sprigs, if desired.