---
Sticky Sesame Chicken with Soba Noodles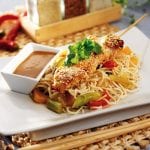 2-4 organic chicken breasts, cut into strips
Salt and pepper
2 Tbsp oil
2 Tbsp sesame oil
4 spring onions, thinly sliced
2 large garlic cloves, crushed
1 medium sized white onion, finely chopped
4 Tbsp soy sauce
4 Tbsp Hoisin sauce
Half cup boiling water
Fresh coriander, roughly chopped
1 packet soba noodles, boiled
4 Tbsp sesame seeds (lightly toasted in a hot pan)
Season chicken with salt and pepper then drizzle with oil and toss well.

Thread onto skewers and chargrill until chicken is golden.

Heat sesame oil in a medium sized wok or pan and gently sauté spring onion, garlic and chopped onion until soft.

Add soy sauce and Hoisin sauce and heat through very well.

Add water and simmer for 2 minutes or until sticky.

Remove chicken from the skewers and stir into the sauce.

Serve noodles in a bowl topped with the chicken and sauce.

Garnish with fresh coriander and toasted sesame seeds.