---
Stuffed Kabeljou Fish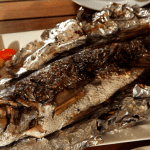 6lb Kabeljou Fish
2 Red & 2 White Onions (sliced)
10 Large Brown Mushrooms
3 sprigs Rosemary
2 sprigs Thyme
3 sticks Lemon Grass (bruised)
4 tbsp Smoked Salt
2 tbsp Black Pepper
4 oz Soft Butter
2 tbsp Balsamic Vinegar
In a medium pot over medium heat, slowly sauté the onions with oil, rosemary and thyme until onions are soft and translucent. Stir continually.

Add water, cover with lid and steam onions for 10 minutes.

Add balsamic vinegar and stir continually until liquid is absorbed.

Season with salt and pepper (to taste).