---
Sugar-Free and Gluten-Free Christmas Pudding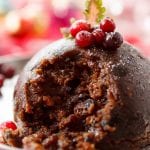 2 cups Gluten free cake flour (Natures Choice)
2 tsp baking powder
1 tsp cinnamon
1/2 tsp salt
1/2 tsp bicarbonate of soda
1/2 tsp nutmeg
1/2 tsp cloves
1/2 tsp pimento allspice
200grams butter
500grams cake fruit mix
1/2 cup agave syrup
1/2 cup grated carrots
1/2 cup of chopped dates
1/2 cup of red glazed cherries
3 large eggs
1/4 cup brandy
1/4 cup freshly squeezed orange juice
1/2 tsp vanilla essence
Sift cake flour, baking powder, salt & spices together

Cut butter into pieces and rub gently into the dry ingredients, until the mixture is crumbly.

Add cake fruit mix, agave syrup, grated carrots, dates and cherries.

Beat eggs, brandy, fruit juice and vanilla essence together then add to the fruit batter and stir well.

Prepare a large bowl (approximately 2.5l bowl with an outer rim)

Cut out a circle of wax paper, the size of the inside bottom of the bowl

Grease the bowl with butter then place the wax paper circle at the inside bottom of the bowl and grease on top of this too.

Empty the pudding mixture into the bowl

Cut a piece of wax paper and tin foil large enough to cover the outer rim of the bowl, with some to spare.

Cover the bowl rim with wax paper and tin foil

Cover with a clean dishtowel then secure the layers tightly with string under the bowl rim

Tie the opposite cloth corners together then cut away any excess tin foil.

Boil for 3 hours.