---
Vanilla Suga Bubble Cupcakes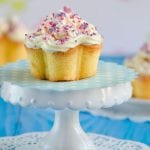 125g butter, softened
150g castor sugar
1 tsp vanilla extract
2 eggs
1 cup self-raising flour
1/2 cup milk
1 cup Manhattan Suga Bubbles Sweets, for decoration
4 egg whites
pinch salt
1 cup castor sugar
Cream butter, sugar and vanilla until fluffy and light. Gradually add the eggs and beat well. Sift the flour over and beat well. Mix in the milk.

Spoon into cupcake wrappers and bake for 12-15 minutes until golden and a skewer comes out clean.

Make the frosting by whisking the egg whites with salt in a heatproof bowl until soft peak stage. Add castor sugar and whisk over simmering water until the meringue is hot to the touch. Remove from the heat and beat on high with a hand mixer until cool. Colour with pink food colouring, if desired and pipe onto cupcakes immediately. Decorate with suga bubbles.