---
White Bean, Mushroom and Asparagus pot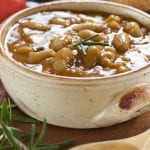 3 cups Asparagus, sliced
3 cups sliced mushrooms, (brown mushrooms are my preference)
4 shallots, finely chopped
6 garlic cloves, minced
1/4 CUP white wine
11/2 CUP organic vegetable stock
1 small handful thyme
2 cans cannellini beans, rinsed and drained
Freshly ground black pepper
1/2 baguette, cut into 2cm cubes
1 tbsp butter, cut into small pieces
1/2 cup grated Parmesan
Olive oil
Blanch the asparagus for a minute or 2 in boiling water. Rinse asparagus with cold water; drain well. Set aside.

Place a pan on medium-high heat. Add 1 tablespoon oil and then add mushrooms, shallots, and garlic. Sauté for 8 minutes or until mushrooms are tender. Add wine and cook for 3 minutes or until liquid evaporates. Stir in stock, thyme, and beans and simmer. Reduce heat to medium, and cook for 12 minutes or until thick and beans are very tender. Freshly grind black pepper.

Preheat the oven to grill. Place the baguette and butter in a food processor, and pulse until coarse crumbs form. Add 1 tablespoon oil and cheese to coarse breadcrumbs and pulse until combined. Stir asparagus into bean mixture, sprinkle coarse breadcrumb mixture evenly over bean mixture. Grill 3 minutes or until crumbs are golden brown. Serve with more toasted buttered baguette.