---
3 Bean Salad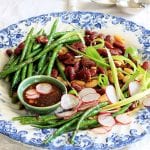 Small packet fine green beans
1 tbsp sunflower oil
2 tbsp red onion, diced as finely as possible
1 small clove garlic, crushed
2 tsp medium-strength curry powder (Rajah is perfect)
1/4 tsp salt
5 tbsp white wine vinegar
3 tbsp Clover Krush apple juice
1 can red kidney beans, rinsed and drained
1 can cannellini beans, rinsed and drained
3 spring onions/scallions (with the green bits), thinly sliced diagonally
6 radishes, thinly sliced
Steam or boil beans very briefly – they must be ever so slightly bendy with loads of crunch. Remove and plunge the beans into ice water until cool. Drain and set aside.

Fry the onion in the oil over a low heat until soft (not brown). Add the garlic and curry powder and fry for a few seconds.

Add the vinegar, apple juice, salt and sugar and boil briefly, stirring until the sugar has dissolved. Remove from the heat. Pour a third of the dressing over the red kidney beans, a third over the cannellini beans and a third over the green beans. Place in the fridge to marinate for at least an hour then sprinkle with spring onions and radishes and serve.