---
Roasted Beetroot, Mushroom & Goat's Cheese Salad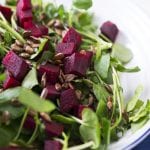 200g beetroot
Salt and pepper
Olive oil
250g wild or fresh porcini mushrooms
50g goats' cheese
2 big handfuls baby spinach
2 tbsp mixed seeds
Wash and cut 200g beetroot into 2cm pieces.

Roast with some salt, pepper and olive oil at 220 degrees C for 40-50 minutes, or until tender. You should still be able to stick a fork into them.

In the meantime, place some olive oil in a saucepan over medium heat and add 250g mixed/porcini mushrooms. Add a dash of sea salt and ground black pepper. Saute mushrooms until cooked, about 15 minutes. I generally put a lid on my pan as the natural water of the mushrooms will assist in steaming them in the pan.

When mushrooms are just about ready, add 2 tablespoons of mixed seeds into the pan with the mushrooms for a minute to warm up slightly.

Assemble plates: Add a handful of baby spinach to each plate. Spoon in your mushrooms, seeds and beetroot. Add torn chunks of fresh goats cheese to the top of your warm veggies and serve immediately.