---
Apple Doughnuts with Coffee Drizzle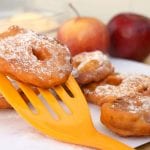 200ml milk
30ml lemon juice
250ml cake flour
10ml baking powder
2ml salt
1 egg, separated
4 apples, peeled and cored
Oil for frying
Cinnamon sugar (250ml Selati castor Snow & 10ml cinnamon)
Drizzle:
125ml Selati icing snow
30ml hot coffee
Add lemon juice to milk (allow to curdle)

Sift flour, baking powder and salt. Beat in egg yolk and milk until smooth.

Beat egg whites until soft peak stage and fold gently into batter.

Slice apples into 5mm rings, dip into batter and deep fry in hot oil.

Remove doughnuts from the oil and sprinkle with cinnamon sugar.

Mix hot coffee with icing sugar to form a thick paste. Drizzle coffee drizzle over doughnuts.