---
Koesisters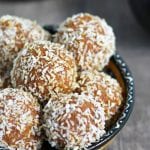 For the dough:
4 cups cake flour
1 pkt instant yeast
1 tablespoon ground aniseed
1 Tbs ground ginger
1 Tbs ground cinnamon
1 tablespoon dried naartjie peel grounded (Optional)
2 tablespoon sugar
1 tablespoon salt
2 tablespoon butter
1 egg
1 cup milk
1 cup hot water
2 medium potatoes boiled and mashed
For the syrup:
3 cups sugar
2 cups water
3 cups cooking oil for frying
2 cups desiccated coconut to coat
Mix together flour, yeast aniseed, ginger, cinnamon, naartjie peel (if using), sugar and salt.

Combine butter, egg, half the milk and half of the water to mashed potatoes and mix thoroughly.

Add potato mixture to dry ingredients and knead well.

Cover and leave to rise till doubled in size.

Combine the syrup ingredients in a pot then stir over low heat until dissolved before bringing to a boil and simmering until thick.

Form the dough into little balls slightly bigger than golf balls and place onto greased surface.

Heat 3 cups oil in a large pan. Pull koesister balls into oblong shapes and fry till golden brown.

Remove from oil and place in the hot syrup before sprinkling with desiccated coconut.