---
Apple Rooibos Iced Tea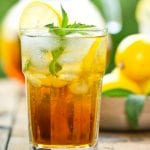 3 cups Clover Krush Apple Juice
3 cups boiling water
3 rooibos tea bags
1/3 cup mint leaves
Apple slices, to serve
Pour the Clover Krush apple juice into ice cube trays, press a mint leaf into each block and freeze until solid.

Pour the hot water over the tea bags and allow to brew until strong. Remove the tea bags and discard. Add the ice to chill the mixture down.

Serve the iced tea in a jug with apple slices.