---
Coffee Sugar Cookies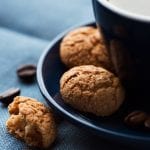 1 cup butter, softened
1 cup castor sugar
1 cup Demerara sugar
2 eggs
2 tsp vanilla extract
3 cups cake flour
1 tsp bicarbonate of soda
1/2 tsp salt
2 tbsp Jacobs Mild coffee
2 cups brown sugar
5 tbsp Jacobs Mild coffee
Preheat oven to 175̊ C.

Cream together the butter, castor sugar and Demerara sugar until smooth.

Beat in the eggs one at a time, then stir in the vanilla.

Mix together flour, bicarbonate of soda, salt and Jacobs coffee.

Combine dry and wet ingredients to form the cookie dough.

Mix together brown sugar and Jacobs coffee.

Use two teaspoons to form cookies then roll in the coffee flavoured sugar mixture before placing onto a baking tray.

Bake for about 10 minutes in the preheated oven, or until edges are golden brown.