---
Apple Roses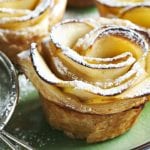 1 large red apple, cored and very thinly sliced
1 lemon
1/2 cup of Water
4/4 cup Selati white sugar
2 T ground cinnamon
1 sheet frozen puff pastry, thawed
1/4 cup melted butter
1 egg
Selati Icing snow to dust
Preheat oven to 200 degrees, spray and cook your muffin tin

Slice your apple into thin slices, keep the skin on.

Place apple slices into a bowl with 1/ 2 cup of water and the juice from one lemon.

Microwave on High about 3 min Mix together sugar and cinnamon in a bowl.

Roll out puff pastry sheet and cut into 6 pieces

Spread melted butter over dough; top with a generous amount of cinnamon-sugar.

Place apple slices along 1 long edge of dough, about 1/2 cm beyond edge of dough, overlapping slices slightly.

Fold bottom half of dough over the apple slices to form a long "folder" leaving apple slices exposed.

Beat egg and water together in a bowl. Paint surface of dough with egg wash.

Sprinkle with more cinnamon-sugar, to taste.

Starting from one end, roll dough not too tightly to form a rose-shaped pastry.

Seal roll with a little water if needed

Transfer roses to prepared muffin tin.

Sprinkle with a little more cinnamon-sugar on top.

Place muffin tin directly on middle rack of preheated oven.

Bake until well browned, about 45 minutes.

Remove muffin tin allow to cool for a few minutes.

Remove apple roses dust with icing sugar and enjoy.