---
---
Tired of boxed-cake mixes? There's no reason why you can't make a sweet and satisfying cake in a short amount of time. Here's a recipe for an easy-prep and great tasting Somali Butter Cake.
Somali Butter Cake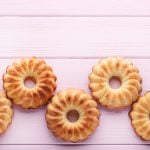 Discover more African and Caribbean recipes on Demand Africa
4 eggs
1 ¼ cups sugar
½ cup butter; melted
1 ½ cups flour; sifted
1 tsp. baking powder
1 tsp. cardamom powder
½ cup milk
Mix the eggs sugar, and butter in a bowl.
Mix in the flour, baking powder, and cardamom.
Add the milk and mix until smooth.
Pour the mixture into a greased pan.
Bake in a preheated oven (300 F) for an hour.
---