---
---
While we think about the choices, we make in our own lives like eating better or exercising more, it's also a good time to commit to lifestyle changes that can have a positive impact on the greater good of the planet. Meat-free Monday is an easy way to make one small change that the more people join the movement, the greater the impression. B-well Canola Oil support all choices to live well and are sharing a great meat-free recipe that everyone will love using their Grapeseed Oil.
Grapeseed Oil
The Chef's Secret: B-well Grapeseed Oil is a by-product of the wine industry. Its very high smoke point makes it perfect for high temperature usage. In the kitchen Grapeseed oil complements salads, sauces, marinades and baking thanks to its neutral taste which brings out the flavors each dish you are making.
B-Well Butternut Biryani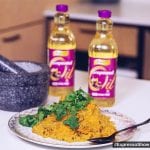 This vegetarian Biryani is a healthy rice dish that is made with B-Well Grapeseed Oil.
For prep:
500 g Butternut (diced)
2 Cups Vegetable stock
1 Onion (sliced)
1 Cup Basmati rice
2 Tbsp B-well Grape seed oil
3 Tbsp Fruit chutney
2 Cloves Garlic (minced)
1 Tbsp Grated ginger
1 tsp Curry powder
1 tsp Turmeric powder
1 tsp Cumin seeds
1 tsp Coriander seeds
Salt and pepper
For serving:
Fresh coriander
Toasted flaked almonds
Plain yoghurt
Fruit chutney
Add the B-well grape seed oil, onions, garlic and ginger to a large medium-high heated pot, sauté them for 3-4 minutes until the onion has softened.
Add the spices to the pot and stir for 1-2 minutes until fragrant. Add the vegetable stock, rice and butternut cubes to the pot then cover the pot with the lid and allow to simmer on a medium heat for 20-25 minutes until the butternut and rice is cooked through.
Add the chutney to the Briyani and season well with salt and pepper. Serve with some fresh coriander, toasted almonds, plain yoghurt and some extra fruit chutney.
---