---
---
Smoked Bone Marrow with Witbier Chimichurri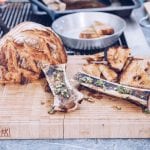 INGREDIENTS:
For the Bones:
A glug of Olive oil for drizzling
3 Large Beef Bones (split by your butcher lengthways into 6 pieces)
Sea Salt and Freshly Ground Black Pepper
For the Chimichurri:
1 cup Witbier
1 Tbsp. Sea Salt
3 Garlic Cloves (finely chopped)
A big handful of Fresh Oregano (chopped)
A big handful of Fresh Parsley (chopped)
4 Springs of Thyme (picked and chopped)
A pinch of Chilli Flakes
¼ cup Malt Vinegar
½ cup Olive Oil
Freshly Ground Black Pepper
To Serve
METHOD
To make the Chimichurri:
Pour the beer into a small pot and bring to a boil.
Remove from the heat and stir in the salt until it has dissolved. Allow to cool.
In a mixing bowl, combine the garlic, herbs, chilli flakes, vinegar and oil and whisk well to mix.
Pour in the cooled beer liquid and whisk well to combine.
Season with pepper then chill in the fridge until needed.
To set up your Weber for smoking, you need to create a two-zone indirect fire. This means that the coals are on one side of the Weber and the bones will be placed on the other side. The idea is that the smoke wil draw over the bones to flavour the marrow and the radiant heat will cook them. For a quick smoke like this, lump charcoal is your best bet and you don't need a huge fire. When the coals are ashed over, it's time to smoke.
Braai the Bones:
Drizzle a little olive oil on the marrow bones and season well with salt and pepper.
Arrange the bones, marrow side up on the cool side of the Weber and toss in a handful of smoking chips. Replace the lid and make sure the partially open vent is above the bones to draw the smoke over them. Smoke for 40 minutes until the marrows are soft and bubbly. Serve on toasted sourdough with generous dollops of chimichurri.
Recipe by Karl Tessendorf and Greg Gilowey Serves 4 Recipe extracted from Beer Country's Beer. Food. Fire. by Greg Gilowey and Karl Tessendorf, published by Struik Lifestyle, an imprint of Penguin Random House South Africa.
---