---
Banana Bread with Chocolate Drizzle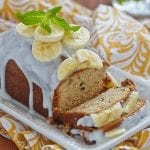 1 cup Selati Muscovado sugar
60g butter, softened
1 tsp vanilla essence
2 ripe bananas, mashed
2 eggs, beaten
1/3 cup buttermilk
2 cups cake flour
1 tsp baking powder
White chocolate drizzle:
90g white chocolate
1 tbs butter
100ml cream
Preheat oven to 180C.

Grease and line a loaf tin.

Cream together sugar, butter and vanilla then add mashed bananas.

Stir in the eggs and buttermilk.

Sift together the flour and baking powder then mix into the wet ingredients.

Transfer batter into the prepared tin then bake for 1 hour or until the cake is cooked through and a skewer inserted comes out clean.

Remove cake from the tin then leave to cool on a wire rack.

Combine the chocolate, butter and cream, then melt gently over a Bain Marie.

Drizzle over the cooled cake.