---
Creme Brulee Tart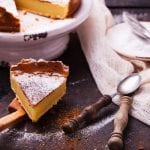 225g cake flour
125g chilled butter, cubed
80g Selati Icing Snow
3 egg yolks
15ml ice cold water
For the filling:
1 vanilla pod
11/4 cups cream
2/3 cup full cream milk
4 large egg yolks
1 whole egg
1/2 cup Selati castor Snow, divided into two halves
Pinch of salt
For the pastry, place flour, butter and sugar into a food processor and process until the mixture resembles fine breadcrumbs. While the motor is running, add the egg yolks. Then add the water and process until the dough just comes together.

Turn dough onto a lightly floured surface and gently bring to a form a ball. Wrap and refrigerate for one hour.

Preheat oven to 180 degrees. Roll out dough. Grease tart tin and press in pastry gently with your fingers (I use a long rectangular one but can also work for a 20cm round tart tin. Prick/ Dock pastry with a fork and refrigerate for a further 30 minutes.

Add a sheet of baking paper over your pastry and add pastry weights (blind bake) for 15 minutes, remove your paper and weights, and then bake for a further 10 minutes. Remove from oven and reduce heat to 150 degrees.

Meanwhile make your creme brûlée filling: Split vanilla pod lengthwise and scrape seeds into a heavy medium pot. Add the pod to this same pot with cream and milk. Heat over medium heat until hot, then allow to steep off heat for 30 minutes.

Whisk together egg yolks, whole egg, 6 tablespoons of your Selati sugar and salt in a large measuring cup/mixing bowl. Pour this into cream mixture, continuing to whisk the whole time, and whisk until smooth. Strain mixture through a fine sieve back into your mixing bowl.

Pour mixture into pre baked pastry shell and bake for 30-35 minutes. The custard will continue to set as it cools. Remove tart from the tin and allow to cool on a rack for at least an hour.

Just before serving, sprinkle your remaining 2 tablespoons Selati sugar over the tart and use a blowtorch to caramelize the top, avoiding the crust. Allow to stand for 5 minutes before serving.