---
Beef and Broccoli Stir Fry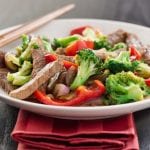 2 x 300 g free-range sirloin steaks
1 large onion, finely chopped
2 tsp ginger, crushed
2 cloves garlic, finely sliced
1 red chilli, finely chopped
250g brown mushrooms, sliced
1 small head broccoli, florets cut off and stems sliced if young and tender
4 tbsp Tamari Soy Sauce
1 fresh lime, juiced
Salt and pepper
3 Tbsp Coconut oil, for frying
Heat a large wok over high heat.

Add the coconut oil and allow to melt. Add the steak and stir-fry until golden brown. Remove from the pan and set aside.

Fry the onion, garlic, ginger and chilli until fragrant then add the mushrooms and broccoli and stir-fry for 5-10 minutes until the vegetables are cooked to your preference.

Add the steak back in then add the Tamari and lime juice and season to taste.

Serve with Woolworths Carb-Clever Fresh Cauliflower Mash.