---
Strawberries 'n Cream Eclair Cake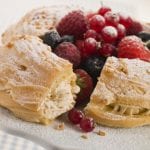 120G cake flour
Pinch of salt
80G butter, cubed
1 CUP water
4 eggs, lightly beaten
300ML cream, whipped
1 vanilla pod, split or 1 tsp vanilla extract
150G Selati Icing Snow, sifted, plus extra to serve
300G fresh strawberries, sliced
50G flaked almonds, toasted
Preheat the oven to 200C. Line a large baking tray with baking paper and draw a 20cm circle on the paper then flip it over.

Make the choux pastry; sift the flour and salt together.

Heat the butter and water until just melted then bring to a rolling boil.

Immediately remove from the heat and add all the flour at once. Mix until a smooth dough forms, place back on the heat and cook for about 1 minute or until the pastry pulls away from the sides of the pot. Allow to cool completely.

Beat the eggs into the pastry a little at a time until smooth, shiny and of a piping consistency.

Place the pastry in a piping bag fitted with a large plain nozzle and pipe a ring of pastry over the circle template then pipe another on the inside of the ring so they both touch. Pipe a third ring on top of the first two.

Bake for 15 minutes then turn the oven down to 180 and bake for 30 minutes or until golden. Turn off the oven and allow to cool with the oven slightly open.

Beat the cream with the vanilla and 2 tbsp icing sugar until soft peaks form.

Cut the pastry ring in half then spread with the cream mixture. Arrange strawberres on top and top with the pastry lid.

Mix the remaining icing sugar with 2 tbsp water to form a glaze then drizzle over the cake. Sprinkle with almonds and dust with extra icing sugar to serve.