---
Braised Pork Belly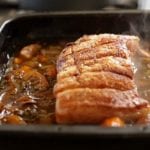 1.5 lbs pork belly
6 cups vegetable stock
2 carrots, large cubes
1 onion, quartered
1 celery stick, washed & chopped
1 leek, cleaned & quartered
7 tablespoons soy sauce
2 sprigs rosemary
2 sprigs thyme
2 tablespoons coarse salt
3 cloves garlic
1 tablespoon lemon oil
Preheat the oven to 392 degrees Fahrenheit.

Lay the belly fat side up, score through the fat, rub in the coarse salt. Set aside for ten min.

In a large pot, sweat the onions, celery, leeks, carrots, garlic and herbs. Add the vegetable stock and soya sauce.

Allow to simmer for ten min. in a large frying pan on low to medium heat.

Add the lemon oil and lie the belly fat side down.

Render the fat slowly for ten min. until hard and crispy.

Remove the belly and lie it on a baking tray, fat side up.

Add the braising liquid along with the vegetables and herbs to the baking tray.

Roast in the oven for 1hr. until meat is soft and delicate. Add more braising liquid if necessary.