---
Deep Fried Leeks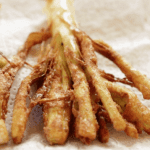 Baby leeks (cleaned thoroughly)
6 cups vegetable oil (for deep frying)
1 cup flour, seasoned
4 eggs, beaten
2 cups breadcrumbs, seasoned
Salt & pepper (to taste)
Slice open the top half of the leeks, leaving the bottom half intact. Blanch the leeks in rapidly boiling salted water.

After blanching the leeks, refresh them in ice cold water, then squeeze out the excess liquid.

Coat the leeks in flour, then egg and, lastly, bread crumbs. Repeat breadcrumbs if necessary.

Deep fry the leeks in vegetable oil at 284 degrees Fahrenheit till golden brown.

Remove when crispy and drain the excess oil on paper towel.

Season with salt and pepper to taste.