---
Breakfast in a glass!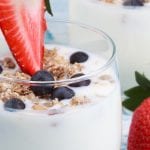 1 cup Clover Krush 6 Fruits and Vitamins, chilled
1 cup full fat double cream yoghurt
Handful baked nut granola, plus extra to garnish
Honey, to drizzle
Place the fruit juice, yoghurt and granola in a blender and blend until smooth. Serve immediately in chilled glasses, drizzle with honey and sprinkle with granola.