---
Brioche French Toast with Orange Syrup and Bacon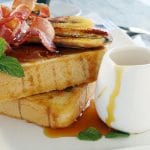 2 rashers of streaky bacon, cut into small bits
100ml orange juice
1 tsp lemon juice
1 tbsp orange zest
1 tbsp castor sugar
1 egg
10ml milk
2 thick slices of brioche
Unsalted butter (for pan)
50g chevre to serve
Make your bacon by frying your finely chopped bits in a pan.

Cook until they are extra crispy but not burnt.

Meanwhile, make your orange syrup by placing all the ingredients in a saucepan and stir until sugar has dissolved.

Allow to simmer until the syrup has reduced by one third and has a silky pouring consistency.

Make your French Toast by whisking you egg and milk together lightly.

Dip your brioche slices in the batter briefly, so that each side is coated but not soggy.

Place some unsalted butter in a pan over medium heat and once hot, add brioche slices.

Cook each side until golden and cooked through, around 4-5 minutes.

Serve with fresh chevre, bacon bits and a generous helping of orange syrup.