---
Spiced Red Wine Pears with Coffee-Chocolate Sauce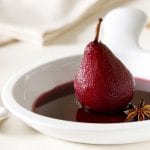 For the pears:
4 pears
2 cups red wine
1 cup sugar
4 cloves
1 cinnamon stick
For the coffee-chocolate sauce:
3/4 cup fresh cream
100g 70% cocoa solids dark chocolate
1/4 cup strong coffee
2 Tbs golden syrup
Vanilla Ice cream to serve
To make the pears
Add the red wine, cup of sugar and spices to a saucepan and heat through until the sugar is dissolved.

(Tip: You want the pears to fit tightly and the red wine to cover them, so use a smallish saucepan.)

Peel the pears (Tip: Leave the stems on, it makes them easier to pick up and pretty to boot).

Place pears in red wine and boil over low heat until the pears are soft.

(Tip: Yes, I'm full of them today… use slightly under-ripe pears so they stand up to the boiling.)

Once soft, turn off and leave pears in the red wine so they continue to soak up flavour.

You can serve the pears either cold or at room temperature.

To make the chocolate sauce: Chop chocolate.

Heat cream until just below boiling point.

Remove from heat and add the chocolate.

Stir until it's melted, then add the coffee and syrup and stir well.

Allow to cool to room temperature.

Serve pears with a generous dollop of ice cream and a jug of chocolate sauce on the side.