---
Cajun Spiced Rib-Eye steak with Chakalaka and Pap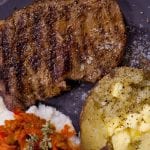 2 x (Avg 600g )Free Range Mature Thick Cut Beef Rib Eye Steak
2 Tbsp Olive oil
1 Tbsp Cajun spice
Salt and pepper
4 sweet potatoes, whole
Stiff Pap to serve
For the chakalaka:
1 Tbsp oil
1 onion, finely chopped
2 cloves garlic, crushed
2 green chillies, deseeded and chopped
2 Tbsp mild curry powder
1 green pepper, finely chopped
1 red pepper, finely chopped
1 yellow pepper, finely chopped
5 large carrots, peeled and grated
2 Tbsp tomato paste
400g tin chopped tomatoes
2 sprigs fresh thyme
Salt and pepper
Preheat oven to 180 C.

Wrap sweet potatoes in foil and place into the oven for 1hour or until soft inside.

Preheat a griddle pan.

Rub the steak with olive oil and Cajun spice, then season with salt and pepper.

Cook on a griddle pan for 3 min on each side, not turning it too often.

Cook until desired doneness.
For the chakalaka:
Heat oil and fry the onion until soft.

Add the garlic, chilli, curry powder and stir to combine

Add the peppers and cook for another 2 minutes.

Add the carrots and stir until coated in the curry powder.

Add in the tomato paste and chopped tomatoes.

Cook for 8 minutes until slightly thickened.

Remove from the heat and add the thyme and seasoning.

Serve steak with roasted sweet potatoes, pap and chakalaka