---
Chocolate Double Caramel Pudding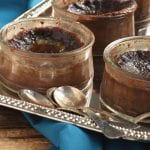 12/3 cup self- raising flour, sifted
2 Tbs cocoa powder
1 cup Selati Castor Snow
125g butter, melted
1 cup milk
1/3 cup white chocolate chips
1/2 can caramel treat
Cocoa powder, to serve
Sauce:
1 Tbs cocoa
2 cups boiling water
1/2 cup Selati Muscovado sugar
Preheat oven to 180ºC. Combine flour, sugar, chocolate, milk, cocoa, and butter in a bowl. Mix until smooth. Spread into an oven proof Pyrex dish.

Make shallow holes in the top and fill with caramel treat (about 1 Tbs). Use a spatula to spread the top of the batter to cover caramel.

Make the sauce by mixing the water, cocoa and Muscavado sugar in a heatproof jug. Using the back of a large metal spoon, pour the sauce over the batter.

Bake for 35-40 mins, until the top of the pudding is just set. Let stand for 5 mins before serving.

Serve with fresh seasonal fruit (fresh orange segments).