---
Chakalaka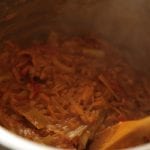 2 cans of baked beans
8 carrots (grated)
3 onions (sliced)
2 leeks (roughly chopped)
4 red peppers (roughly sliced)
2 tbsp tomato paste
2 tbsp curry powder
8 tbsp olive oil (add more if desired)
Salt & pepper (to taste)
In large pot/ saucepan at medium heat, sauté in oil the onions, peppers and leeks till soft.

Add the curry powder and season, stir constantly till a rich deep colour is reached.

Add half the beans and simmer till soft, approx 1hr.

Check the seasoning and add the other half of the beans.