---
Salmon Bruschetta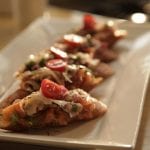 7 ounces smoked salmon (thin slices)
1 baguette (French loaf)
Handful of Rosa/cherry tomatoes
Half red onion (julienne)
1 red pepper (julienne)
Zest of 1 lemon
Small handful of coriander (roughly chopped)
1 tablespoon spring onion (roughly chopped)
1 tablespoon dill (roughly chopped)
Juice of 1 lemon
4 tablespoons olive oil
5 knobs of salted butter
2 sprigs of thyme (picked)
2 cloves of garlic (minced)
Salt & pepper (to taste)
Baguette:

Slice the bread diagonally into toast-size pieces.

In a frying pan, toast the bread till golden brown with butter, 2 tablespoons of oil, garlic and thyme.
Season to taste.
Salsa:

In a bowl combine the red onions, peppers, spring onion, zest & juice of lemon, dill, coriander with 2 tablespoons oil. Season to taste.

Presentation of bruschetta:

Lay generous slices of the salmon on the cooled toastie, top with the salsa mixture and garnish with half a tomato.

Season with salt and pepper.