---
Cheese and Olive Scones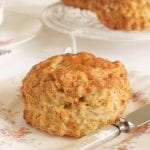 2 cups self-raising flour
30g butter
1/2 cup black olives, chopped
3/4 cup cheddar cheese, grated
1 cup buttermilk
1/2 tsp cayenne pepper
1/2 tsp mustard powder
Olive Oil
Salt to taste
Preheat oven to 220°C.

Sift flour, cayenne pepper and mustard powder and salt into a large bowl. Rub in butter until it

Make a well in the center of dry ingredients and add buttermilk.

Turn onto a lightly floured surface and knead gently.

Roll dough out to 2cm thickness. Using a floured cutter (size as desired), cut out rounds and

Bake for 10-15mins until golden brown.

Resembles bread crumbs. Stir in ½ cup cheese and chopped olives.

Arrange on greased baking try. Brush with olive oil and sprinkle with remaining cheese.