---
Orange Marmalade and Bitter Chocolate Mousse Cake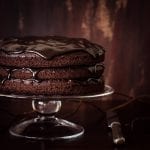 4 Eggs
60ml castor sugar
60ml cocoa powder
60ml cornflour
1.5ml baking powder
1.5ml bicarb
60g dark chocolate
30ml boiling water
250ml Orange marmalade
60ml Water
60ml Triple sec liqueur
250ml Cream
300g Dark Chocolate, 70%
3 Eggs for filling, separated
30ml Orange liqueur
1/2 Orange (finely grated zest only)
180g Dark chocolate
60g Icing Sugar
120g Water
45g Butter
Pre-heat your oven to 180°C and line 2 swiss roll pans with non-stick baking paper.

Whisk the eggs and castor sugar together to the ribbon stage.

Melt the chocolates and water together.

While the machine is running, pour the chocolate mixture into the egg mixture

Fold in the sifted cocoa, baking powder, bicarb and corn flour and mix in gently.

Pour the mixture into 2 lined swiss roll pans and bake for about 15 minutes or until firm to the touch.

Remove and turn out to cool on a cooling rack.

Once cooled, cut out a disc from each cake sheet. ( use a 20cm cake tin/ring to mark the size)

Liqueur syrup:

In a small pot, heat Orange marmalade, Water and Triple sec liqueur together. Use while still warm.

Mousse Filling:

Whip the chilled cream and set aside.

Break the chocolate into pieces and place into a glass bowl. Melt the chocolate carefully over a double-boiler. (ie A pot of hot, but not boiling water ).

Once melted, remove from the heat and stir the egg yolks into the melted chocolate until combined Add the liqueur and zest and mix in well.

In a clean bowl, whisk the egg whites until stiff peak stage and fold a third at a time into the chocolate mixture.

Now fold the whipped cream into the mixture.

Pop the bowl into the fridge to firm up a bit if it feels too runny before assembling.

Chocolate glaze:

Place Dark chocolate, Icing Sugar, Water and Butter into a glass or plastic bowl and heat in the microwave on 70% for about 5-7 minutes. Stir after each minute until smooth and melted.

Allow to cool for a few minutes before using.

To Assemble:

Use the same 20cm tin as the sponge was cut out with.

Place a layer of baked cake sponge into the tin and sprinkle with the liqueur soaking syrup until well moistened.

Pour the mousse filling in to cover the sponge layer.

Place the second soaked sponge layer on top and pour the melted glaze over.

Place into the fridge for at least 4 hours to chill and set.

Once set, remove from the spring-form tin, place onto a serving plate. Decorate as desired.