---
Chicken Vegetable Pasta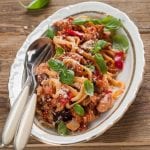 4 free range chicken breast fillets
1 bottle Ina Paarman Tomato, Olive and Chilli pasta sauce
Ina Paarman Seasoned Sea Salt
1 packet mushrooms, chopped
1 green/red pepper, chopped
1 pack baby spinach
200 – 300g pasta (spaghetti)
Preheat oven to 180˚C. Pack chicken fillets in an oven proof dish. Season with salt and pepper to taste.

Simply pack the vegetables in layers on top of the chicken, starting with the peppers, mushrooms and topping that with the spinach.

Cover the vegetables with the pasta sauce. Bake in the preheated oven at 180˚C for 40 minutes. Serve with pasta.