---
Berry Trifle with Roasted Strawberries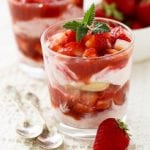 250ml dark beer (substitute ginger beer/non alcoholic beer)
250g molasses
2 tsp baking powder
3 eggs
230g soft brown sugar
200ml olive oil
250g self-raising flour
2 1/2 Tbsp ground ginger
2 Tsp ground cinnamon
400g Sabrosa Strawberries, hulled and whole
2 Tbsp castor sugar
250g Mascarpone
1/2 tsp ground cinnamon
Preheat the oven to 180'c. Grease and line a baking tray with baking paper. Put the beer, molasses in a large pot and bring to the boil. Remove from the heat, add the baking powder and allow the foam to subside. Using an electric beater, whisk the eggs and sugar together in a large bowl until pale and slightly thickened. Add the olive oil and whisk to combine, then whisk into the beer mixture.

Sift the flour and ground spices into a large bowl, then gradually whisk in the beer mixture until combined.

Pour into prepared baking tray and bake for 15-20 minutes or until toothpick inserted into the centre comes out clean.

Remove from the oven and leave to cool completely.

Heat the marmalade in a saucepan over low heat until melted. Brush over the cooled cake. Using a cookie cutter, cut out rounds. The cookie cutter size depends on the size of the serving glass you are using to dish up.
For the Roasted Strawberries
Turn down the oven to 120'c. Sprinkle sugar over the berries and leave for 20 minutes.

Reserve any liquid and place strawberries on baking tray and roast for 40 minutes until they appear cooked but still firm to touch.
To assemble
Mix together the mascarpone, reserved strawberry liquid and cinnamon.

Place one layer of mascarpone mix in a serving glass, followed by a layer of cake, mascarpone and finish with roasted strawberries.