---
Chickpea and Ostrich Frikkadel with Fennel Slaw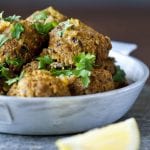 500g ostrich mince
1 cup cooked chickpeas, roughly chopped
250g cream cheese
100g spinach, blanched, drained and roughly chopped
Salt and pepper
200g spinach, chiffonade
1 fennel bulb, finely sliced (including the fronds)
Salt and pepper
4 tbsp olive oil
In a large bowl, combine the mince, chickpeas, 100g cream cheese and spinach. Season generously with salt and pepper then mix with your hands until mixture binds together well.

Divide frikkadel mixture into 8 equal parts, then form into flat patties. Place a teaspoonful of cream cheese to the centre of the patty, then fold the meat into a ball to encase the cheese.

Place frikkadels into the fridge to chill for 30 minutes.

Heat oil in a pan, then fry the frikkadels until golden and cooked through.

Toss together the spinach, fennel, salt and pepper then drizzle with olive oil.

Serve the frikkadels alongside the fennel slaw.