---
Inside-out Chocolate Cake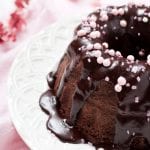 375g butter, softened
11/2 cups Selati Demerara sugar
3 eggs
2 cups cake flour, sifted
2 tsp baking powder
2/3 cup (160ml) cocoa powder, sifted
3/4 cup milk
225g cream cheese, softened
1/4 cup Selati castor snow
1/4 cup cocoa powder, sifted
1 egg
150g chopped dark chocolate
1/2 cup cream
Preheat the oven to 160C. Grease a bundt cake pan and dust with cocoa powder.

Cream butter and sugar until very fluffy – about 8 minutes then add the eggs one at a time.

Sift in the flour, baking powder and cocoa powder and fold in alternately with the milk.

Spoon half the mixture into the bundt tin.

In a separate bowl, combine the cream cheese, sugar, cocoa and egg.

Drop spoonfuls of the cream cheese frosting into the cake batter, swirl with a knife then top with the remaining batter.

Bake in the preheated oven for about 1 hour or until a skewer comes out of the cake clean. Allow to cool slightly in the tin, then turn out.

Melt the chocolate and cream together slowly then drizzle over the cooled cake.