---
Chocolate Bread and Butter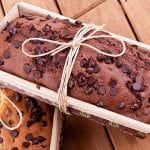 1 1/2 cups cake flour
1/2 cup cocoa powder
1/2 teaspoon salt
1 teaspoon baking powder
1/2 teaspoon bicarbonate of soda
1/2 cup butter, softened
1 cup castor sugar
2 eggs
1 cup buttermilk
1/2 cup chopped pecans, divided
1/4 cup chocolate chips
For the chocolate butter:
1/2 cup chopped chocolate
1/2 cup butter
1 teaspoon vanilla paste
Preheat the oven to 180C

Grease a small loaf tin.

In a bowl mix together the flour, cocoa, salt, baking powder and bicarbonate of soda.

In an electric mixer beat together the butter and sugar until light and fluffy.

Add the eggs one at a time.

Mix the flour mixture through the batter and add the buttermilk. Fold through half the pecans and pour the mixture into the loaf tin.

Bake the loaf for 20 minutes and top with the chocolate chips and other half of the pecan nuts. Bake for another 35 minutes. Remove from the tin and cool.

For the butter: Melt the chocolate carefully and allow to cool slightly. Beat in the butter and the vanilla.

Serve the bread and butter together.