---
Tanzanian Angel Fish in Okra Sauce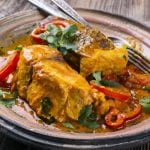 1kg angel fish fillet, cut into chunks
Olive oil, for frying
2 onions, diced
1 eggplant, diced
10 okra, diced
5 tomatoes, diced
1/2 cup water
3 small fresh chillies
1 t paprika
1 t chili powder
1 t salt
1/2 fresh lemon, juiced
1/4 cup Clover Krush Orange Juice
Rice or pap, to serve
Heat oil in frying pan then shallow-fry the fish on both sides until golden brown and cooked through.

In a separate pan, heat oil and fry the onions until soft.

Add the tomatoes and fry for 2 minutes.

Add egg plant, cook for 2 minutes.

Add okra, lemon and orange juice.

Transfer sauce to a pot. Add all spices including, salt and water.

Boil for 10 minutes.

Add fried fish. Simmer for 20 minutes and serve with rice or pap.