---
Chocolate and Ginger Cheesecake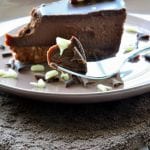 1 pkt Ginger biscuits
80g melted butter
1 tin caramel treat
1 TUB full-cream cream cheese
340ml fresh cream
10g powdered gelatine
15ml boiling water
150g melted chocolate
Crush biscuits till fine in a food processor.

Pour in melted butter and mix until combined.

Place biscuit mixture into a spring form cake tin and press firmly with the back of a spoon until a flat base is formed. Allow to set in the fridge for 30mins.

Add boiling water to gelatine, allow to dissolve

Beat cream until stiff.

Add gelatine to caramel treat and cream cheese and beat together well.

Fold the cream and melted chocolate into this mixture.

Pour over biscuit base.

Allow to chill and set for at least 2-3 hours before serving.