---
Chocolate Ginger Kisses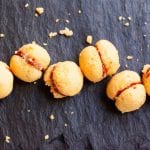 140g hazelnuts (or almonds), toasted and skinned
140g (1 cup) rice flour (or cake flour)
1 tsp ground ginger
100g butter, softened
100g sugar
Pinch of salt
100g good-quality dark chocolate, chopped and melted
Preheat the oven to 160C. Grease and line two baking sheets.

Place the nuts in a food process and process until the consistency of coarse breadcrumbs.

Add the flour, spice, butter, sugar and salt and pulse until the mixture comes together to form a soft dough.

Divide the dough into three pieces and roll each into 2cm thick logs then refrigerate until firm.

Working with one piece of dough at a time, cut off small pieces of dough (about 5g each) then roll into little balls and place on the baking sheet.

Bake for 10 – 15 minutes or until golden brown. Cool completely.

Sandwich together with melted chocolate and allow to set.