---
Coconut Chicken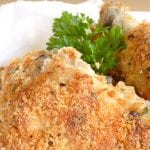 1/2 cup coconut flour (or cake flour)
Salt and pepper
8 chicken drumsticks
2/3 cup coconut cream
1 tbsp chilli sauce (I use Sriracha)
1 tbsp ground cumin
1 tbsp ground coriander
3 cups panko crumbs
1 cup desiccated coconut
2 tbsp olive oil
Potato wedges and wasabi mayo to serve
Preheat oven to 200C.

Season flour generously with salt and pepper then dip chicken and shake off excess.

Whisk together coconut cream, chilli sauce, cumin and coriander.

Dip chicken into wet ingredients.

Mix together panko and coconut then dip chicken in to coat well.

Place coated chicken onto a baking tray, leaving space in between the chicken.

Drizzle chicken pieces with olive oil then bake for 40 – 45 minutes or until crispy and the chicken is cooked through.

Serve with roasted potato wedges and wasabi mayo.