---
Lemon Zest Cheesecake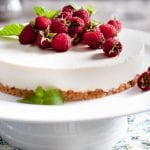 1 packet Tennis Biscuits (crushed) or you can use Romany creams or chocolate digestive
150g unsalted Butter (melted)
250ml Cream
1 packet of a packet of Lemon Jelly
10ml Vanilla Essence or 1 vanilla pod
250g Smooth Cream Cottage Cheese
125ml Boiling Water
For the Base:
Melt the Unsalted Butter and the Biscuits together. This should then form a ball.

Press into your Cheesecake Mould.

The Base should be about +/- 7mm thick.

Leave the base in the Fridge for a few minutes for the butter to set.
For the Filling:
Combine the jelly and the boiling water; stir together so that the jelly can dissolve. Let this cool.

Smooth out the Cream Cheese

Add the Cream to the Cream Cheese.

Add the Vanilla Essence.

Lastly add the jelly to your mixture. Mix well with a spatula.

You want your Cheesecake to have a smooth consistency, without any bubbles.

Leave to set in the refrigerator for +/- 3 hours or overnight.
Chef's Tip: Should you want to add some ………."pizzazz"…….simply drop in some blue berries or strawberries on the bottom base and then put mixture on top and once set you can then garnish with Blue Berries, raspberries, Black Berries and Strawberries…………..and dust the berries with icing sugar.