---
Coffee swirl ice-cream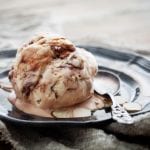 90g milk chocolate
2 tbsp butter
50ml cream
4 tbsp Jacobs coffee, diluted in ¼ cup hot water
300 ml double cream
1 tin condensed milk
4 tbsp Jacobs coffee
2 tbsp coffee liqueur (optional)
Melt together chocolate, butter, cream and Jacobs coffee.

Whisk together cream, condensed milk, Jacobs coffee granules and coffee liqueur until soft peaks form.

Pour 1/3 ice cream into a freezer safe dish or un-lined metal loaf tin.

Drizzle over 1/3 of the swirl mixture then top with another 1/3 of ice cream.

Repeat layering until the rest of the ice cream and swirl mixture is used up, ending with the swirl mixture.

Cover then freeze until set completely.

Scoop to serve – best enjoyed as part of an affogato*.