Summer Salad with Orange Vinaigrette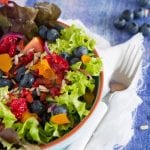 1 baby cos lettuce
1 cup blueberries
1/2 cup pomegranate jewels
1 roll goats cheese
1 large ripe avocado
1/2 cup crispy onion flakes
handful fresh basil leaves
150ml Clover Krush Orange Juice
2 tbsp apple cider vinegar
4 tbsp olive oil
pinch of salt
Assemble salad by arranging cos lettuce on a platter, scatter over berries & pomegranate jewels, tear goats cheese into chunks and scatter over, finish off with avocado chunks and crispy onion flakes.

Make dressing by mixing all the ingredients together really well – a salad dressing shaker works best.

Garnish with fresh basil leaves.