---
Cornflake Crunch Clusters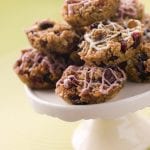 130g butter
2/3 CUP Selati sugar
1 large egg
2 TSP vanilla extract
1/2 CUP crushed cornflakes or other breakfast cereal
1/2 cup raisins, chopped dried fruit or nuts
1 cup self-raising flour
31/2 cup crushed cornflakes (extra), for rolling
Preheat the oven to 180 degrees Celsius.

Cream butter and sugar until light and fluffy.

Add the egg and vanilla and beat well then stir in the cornflakes, raisins and flour and mix well.

Roll into balls then roll in the extra crushed cereal.

Place on baking tray and bake for 12 minutes.

Store in an airtight container for up to 2 weeks.