---
Provençal Onion Tart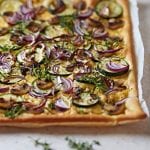 350g bread flour
10g instant yeast
1/2 tsp salt
3 tbsp olive oil
1 extra large egg
160ml water
1.5kg onions, finely sliced
8 tbsp olive oil, for frying
11/2 tbsp fresh thyme
1 clove garlic, chopped (if you like it pungent, add another)
Small pinch of salt
Generous pinch of freshly ground black pepper
Small bottle of anchovies
Kalamata olives, pitted
Mix all the bread ingredients together and knead for 10 minutes. Place dough in a large bowl smeared with olive oil, cover with cling film and set aside in a warm place to rise for an hour. In the meantime, gently fry the onions in the olive oil until soft and lightly caramelized. You want it nice and light brown, not burnt. This takes at least 25 minutes. Add the garlic and thyme towards the end. Add the salt and pepper and set aside to cool.

Once dough has risen nicely, knock it back and knead for another minute. Roll out the dough in a rectangular shape one centimeter thick and line a rectangular baking tray (brushed with olive oil) with it. Cover with the onions, then add anchovy fillets and pitted black olives. Traditional pissaladières feature the anchovies in a diamond-shaped pattern with the olives in the centre of the 'diamonds'.

Bake at 220 degrees Celsius for 25-30 minutes until the bread is golden and baked through. Cut into smallish squares and serve while warm as a snack with a glass of dry rosé. Or add a fresh green salad for a lovely light lunch or dinner. As a snack it will serve 8-10. As a meal it will serve 4.