---
Easy Bean and Sweet Potato Bunny Chow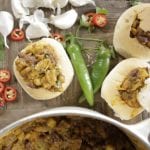 1ml Fennel Seeds
1ml Cumin Seeds
1ml Yellow Mustard Seeds
1tbsp fresh curry leaves
2 tbsp Butter of Ghee
1 tbsp Oil
1 tsp chopped garlic
1 tsp chopped ginger
1/2 tsp minced chilli
1 large onion, finely chopped
1/2 tsp ground cumin
1/2 tsp ground coriander
2 tbs Medium Curry Powder
2 tbs Garam Masala
1/2 tsp Tumeric
1 tbs Tomato Paste
1 cup Chopped Fresh Tomatoes (no skin or seeds)
2 arge Sweet Potatoes, peeled and cubed (about 2cm x 3cm)
1/2 cup Vegetable stock
1 tin KOO Mixed Vegetable Curry
1 tin KOO Kidney Beans, rinsed and drained
1 tin KOO Sugar Beans, rinsed and drained
1 tbs Butter
1 tsp Fresh mint, finely chopped
1 tbs Fresh coriander, finely chopped
Salt and Pepper
Heat a heavy-based pot, add the fennel, cumin and mustard seed and dry fry for about a minute.

Add the butter and the oil and melt.

Add the onion, garlic, chilli, ginger and spices (curry, garam and turmeric) and fry for a couple of minutes, stirring every so often to prevent sticking on the bottom.

Add the tomato paste, fresh tomatoes, sweet potatoes and stock and bring to the boil, reduce heat and allow to simmer with the lid on for 10 minutes. Sweet Potatoes should be soft but still firm.

Add all the beans and mixed veg curry and mix lightly through. Allow to come to the boil and cook for 10 minutes with lid off. Adjust the seasoning.

Add the tablespoon of butter, the mint and the coriander and mix through.

Chefs Tip! Us to fill ¼ loaf bread or firm rolls with middle dug out or use to fill roti's. Garnish with extra coriander. Reduce chillis or curry powder for a milder curry. Add extra stock, if more gravy is preferred.