---
Slow Cooked Duck and Plums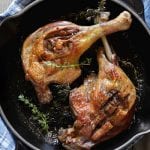 4 fat duck legs
2 teaspoons Maldon Salt
1 tablespoon olive oil
1 celery stick, finely chopped
1 carrot, finely chopped
1 onion, sliced
1 tablespoon crushed garlic
1 tablespoon crushed ginger
1-2 fresh red chillies, deseeded and sliced
1 tablespoon 5 spice
1 cinnamon quill
4 star anise
1/3 cup soy sauce
500ml chicken stock
1 packet plums, halved and destoned
2 tablespoons brown sugar
Preheat the oven to 160˚C and rub duck legs with salt.

Heat a cast-iron pan over high heat. Place duck legs, skin side down, in the pan and sear for 1 minute, then turn and sear the other side. Remove duck from pan.

Sauté together the spices, vegetables, chilli, garlic and ginger

Sear the duck legs and add to the pot

Deglaze with the soy and stock

Add duck legs into the pan and cover

Allow to cook in the oven for 2 hours until soft and tender

Add to the pot with the plums and sugar during the last 30 minutes

Season to taste.