---
Easy Peaches and Custard Ice Cream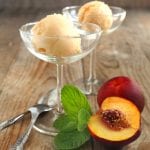 1/2 cup castor sugar
500ml ready-made custard
250ml cream, whipped
1/2 cup Clover Krush Peach and Mango juice
1 small tin peaches, drained
In a mixing bowl, combine the custard and sugar and gently fold in the whipped cream.

Pour into a freezer-proof container.

Blend together the Clover Krush and peaches to form a puree then swirl the mixture into the ice cream mixture to create ripples.

Place in the freezer and freeze overnight until firm.