---
Lemon Pound Cake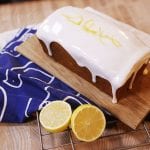 225g unsalted butter, softened
225g castor sugar
4 large eggs
225g self-raising flour, sifted
2 lemons, zested
Juice of 2 lemons
2 cups icing sugar, sifted
Preheat oven to 160 C

Cream butter and sugar until pale

Beat in eggs, one at a time.

Add self-raising flour and mix well.

Fold in lemon zest.

Transfer batter to a lined 22cm loaf tin.

Bake for 45 minutes or until skewer inserted comes out clean

Remove from the tin and leave cake to cool completely.

For the glaze, place icing sugar into a bowl, then slowly mix in the lemon juice until the mixture reaches the correct consistency.

Pour glaze over the cooled cake.