---
Edina's Deep Fried Spinach Leaf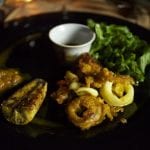 1 cup all-purpose flour
11/2 cups juice of spinach
1 egg, beaten
1 tbsp fresh chili, chopped
1 tsp salt
1 tbsp ground black pepper
Preheat a medium pot with oil over medium temperature.

In a bowl, combine the flour, pepper, chili and salt. Make a well in the center.

Add the spinach juice and beaten egg. Mix till a smooth consistency is reached.

One at a time, coat a fresh spinach leaf with the batter and fry for a few seconds till crispy.

Sprinkle with salt and allow excess oil to dry over a kitchen / paper towel.